Guerrilla Marketing for Professional Speakers
It's Better to be Different than to be Better
Based in Edinburgh, Flow Languages provides translation and interpretation services all over Europe. While working together over SKYPE on his Guerrilla Marketing Calendar for 2014, the owner, James Canter, shared his plan to send Valentines Day Cards to all of their clients.
James had designed an elegant color postcard, featuring the company logo, toll-free number, and listing all the various languages and services they offer. He was planning to have them professionally printed, on glossy stock, and mailed in bulk to his whole list. Good thing I stopped him.
"No, no, no, no, NO!" I said. "That's exactly what every other business does. They send out a glossy marketing piece that looks like a glossy marketing piece, and it goes straight in the bin."
"So what do you recommend?" James asked.
"Go to Sainsbury's and buy several boxes of those cheap little valentines that kids pass around grammar school. Sign each card with the message, 'We LOVE having you as a client!' sign your name, and enclose a business card. Then hand address each envelope and apply a Royal Mail First Class stamp."
"But what about quality? The message is that we offer high-quality accurate translation. Shouldn't the mailing reflect that?"
"I understand your intention," I said, "but quality is a given. Every translator does accurate translation or they'd be driving a truck. What matters is the relationship.
"When you try saying something to everyone, you risk saying nothing to anyone. Instead, say something specific to someone." I told him, "Target the top 10 or 20% of your past clients, ranked by revenue, then add inactive clients who are likely to engage you again, and get busy."
Like all good clients, James acted on the advice. He and his employees spent the next week preparing 500 little valentine cards, and addressing 500 tiny red envelopes.
Within a week, he received more than a dozen calls from people saying, "Oh, that was SO thoughtful!" and "I haven't seen one of these since I was a kid!" By the end of March, he had booked 14 new translation projects directly from this mailing, worth more than £14,000, on an investment of about £200. More importantly, he re-activated 10 past clients who, for a combination of reasons, had been using a competitor.
Since starting his "Guerrilla Marketing Makeover" in January, James has grown Flow Languages from approximately £14,000 in monthly revenues, to more than £40,000. That's 186% growth in less than three months. And he's still growing.
His secret, "It's better to be different, than to be better."
First of all, it's expensive to be better. Seven dollars for a fancy valentine for your sweetheart is one thing. Printing something original that's greeting-card quality, plus the envelope, and postage to 2,000 clients, that's exorbitant.
And it might actually be impossible to be better. Even if you care enough to send the very best, Hallmark has that market cornered.
Besides, EVERYONE claims to be better, so even if you ARE better, no one believes you. Advertising is considered the second least reliable source of information, after politicians.
So guerrilla marketers focus on doing something different. Postcards can be effective, but look at what everyone else in your category is doing, then don't do that. A tiny red envelope, hand addressed, with a stamp? Yeah, that's going to get opened.
While you're at it, don't waste valuable time talking about commonalities. Every speaker "works intimately with our clients to produce dramatic results." Yawn! What unique skills or attributes do you bring to the relationship?
It helps if you can use the magic word "only."
For example, while every ad agency in the world claims to offer "guerrilla marketing," I'm the only speaker/trainer/coach/consultant/guru (pick one) who has written six books about it. The only guerrilla marketing speaker who has addressed audiences in 47 countries on six continents. The only guerrilla marketing expert voted one of the "Top 5 Sales/Marketing Speakers" in the world for the past 5 years straight. (Sorry if this is starting to sound self-serving, but if you don't blow your own horn, there's no music.)
So make a list of all the attributes that uniquely qualify you as an expert. What unusual training and experience do you have? What's your specialty? What books, articles or blogs have you written? What out-of-the-way audiences have you spoken to? Claim your "only."
Your WOW! Factor
Another way to approach this is to figure out your "WOW! Factor." My friend Tom Peters wrote a marvelous book, The Pursuit of WOW!, and wow, get it, read it. Your WOW! Factor is something that you probably take for granted, that when you tell other people about it, their likely response will be, "WOW!"
For example, I am a "Certified Speaking Professional," which means I can add the letters CSP after my name. This is not a big deal. But if you explain, "The CSP is the highest level of certification recognized worldwide by meeting planners," your client might just think, "wow!" Or if you point out that there are fewer than 700 CSPs in the whole world, your client might think, "Wow!" Or if you told them that you are required to document more than 250 paid presentations, over a span of five years, and pass stringent client and peer reviews, they might just say, "WOW!" Now you have a competitive advantage.
The Test of Relevance
I might even add that on weekends, I lead a 20-piece Swing-Era jazz orchestra (I play drumset.) What does that have to do with Guerrilla Marketing? Nothing.
Your WOW! Factor is only effective if it's relevant. Leave out everything that takes attention away from your primary expertise. Nobody cares if you've climbed Everest 11 times, unless you're marketing yourself as a motivational speaker who shares what you've learned by climbing Everest.
If, like my friend Robin Hoffman, you're a "Get Published Coach," who "has helped multiple clients write award-winning and best-selling books," that's all you need to say. Now that's a WOW! Factor.
The Test of Specificity
Specificity sells, so spell out the details. It's one thing to say that you're "An award-winning speaker." It's quite another to say you "received the Speaker of the Year Award from Meeting Professionals International in 2000." Or that, "Guerrilla Marketing was ranked as 'One of the 10 Most Influential Business Books of All Time' in the February 4, 2013 edition of Inc. magazine." The more specific you can be, the better. Which brings me to one more weapon in the speaker's marketing arsenal:
The Capabilities Statement
This is a short story, starting with the words, "For example. . .," that you tell to answer the question, "That sounds interesting, tell me more?" A Capabilities Statement is made up of three parts:
a story about a recent project that shows us what it's like to work with you,
a tangible benefit or outcome for your client, and
a reference.
If you go back to the top of this article, you'll see that the opening has all three of these elements: an example, an outcome, and a reference. I could have claimed, "We help entrepreneurs double their business in three months or less." And while it's true in this case, the claim, by itself, isn't credible.
Telling a story is much more effective because it doesn't sound self-serving. Let the example speak for itself, and let your prospect decide if there is a fit. Script your Capabilities Statement carefully, and then practice telling it as a story, the shorter the better. Weave these stories into your program and you'll be mobbed by people wanting to book you.
Of course you should have more than one Capabilities Statement, one for each of the major activities in your practice. For example, "I was recently in London, teaching a four-day Business Mastery seminar with Tony Robbins,..." but that's another story.
MORE Marketing / Branding BLOGS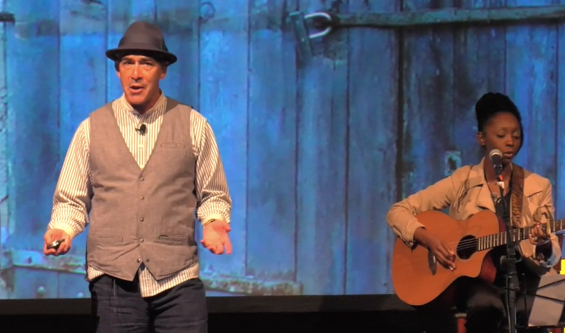 Innovation keynote speaker, Michael Perman helps teams crack the innovation paradox to generate actionable ideas, breakthrough products, and revolutionary customer experiences. The founder of C'EST'...'
more...